Prime XBT is a Bitcoin-based derivatives trading exchange that allows you to trade cryptocurrencies and traditional financial instruments such as Forex, S&P 500 and Nasdaq composite indices, commodities like crude oil and natural gas, and more from a single account.
Pros
Margin trade cryptocurrencies
Traditional assets up to 100x leverage
Simple & quick sign up process
Minimal trading fees
No forced KYC
Cons
Limited direct crypto transfers
No fiat deposits/withdrawals
Only CFDs
Not available in 14 countries including USA, Canada, France and Japan
PrimeXBT Review

PrimeXBT has variety of choices, but it's fairly simple to use as even a mere beginner can open an account and load it with Bitcoin (BTC) in minutes. The platform allows up to 100x crypto leverage trading and up to 1000x leverage for Forex trades. The platform is available to traders from more than 150 countries worldwide.
---
PrimeXBT Key Features
Prime XBT is an excellent cryptocurrency margin trading exchange for traders who are looking for a way to use bitcoin (BTC) as margin collateral to trade cryptocurrencies and traditional markets. Other notable features of the platform include:
Bitcoin-based platform. Prime XBT lets you deposit and use multiple trading accounts using bitcoin (BTC), ether (ETH), tether USD (USDT), USD Coin (USDC), but all trades on the platform are denominated in BTC.
Ability to margin trade traditional assets as well as top cryptocurrencies. Trade bitcoin, ether, litecoin, EOS, and XRP with up to 100x leverage along with top stocks, commodities and Forex with up to 1000x leverage. The platform supports more than 50 assets from both crypto and traditional worlds.
Powerful and well-designed platform with customizable widgets. It comes with more than 12 integrated liquidity providers, which is capable of executing up to 12,000 orders per second and makes sure that the average order is executed in less than 7.12 ms.
Covesting module. Prime XBT integrates directly with another crypto social trading platform Covesting, which allows you to track and automatically copy the actions of expert traders.
Low fees platform. Prime XBT is extremely transparent when it comes to fees and guarantees some of the lowest fees out there.
Privacy. Prime XBT is a pro-privacy platform, which means that there are no mandatory KYC (know your customer) checks before you can start trading. Nevertheless, the platform has partnerships with various anti-money laundering (AML) service providers.
---
PrimeXBT History and Backround
Prime XBT was founded and registered in Seychelles in 2018 under the holding company name Prime XBT trading services (148707). However, the platform didn't launch its trading services until early 2019
Later in 2019, Prime XBT also opened an office in St. Vincent & The Grenadines and moved its domain and trading infrastructure to the so-called worlds capital of cryptocurrency – Switzerland.
Prime XBT operates in a borderless manner, which comes with minimal compliance with local regulations. As of today, the platform is accessible in more than 150 countries but is not available in the United States, Quebec (Canada), Algeria, Ecuador, Ethiopia, Cuba, Crimea and Sevastopol, Iran, Syria, North Korea, and Sudan.
The website is available in sixteen international languages: English, Chinese, Spanish, Japanese, Korean, Portuguese, Russian, Turkish, French, German, Italian, Hindi, Indonesian, Vietnamese, Thai, and Bengali.
---
PrimeXBT Fees
In terms of fees, Prime XBT is on the lower end of exchanges. The platform does not charge any deposit fees, but any withdrawal will cost you 0.0005 BTC – a standard fee to cover your Bitcoin transaction cost. In contrast, BitMEX, other popular Bitcoin derivatives exchange also says to charge only a small fee to cover BTC transaction cost, but it has been observed to charge people approx. 0.001 BTC which is not much but as twice as expensive.
Other principal fees at Prime XBT are Trade Fee and Overnight Financing.
The Trade Fee is charged every time you open or closed a position:
0.05% for cryptocurrency trades
0.01% for indices and commodities
0.001% for Forex
While competing exchanges offer rebates for market makers, PrimeXBT is an STP broker and always pays for order execution at the liquidity provider.
Overnight Financing is incurred only when an open position is carried into a new day. A trading day at Prime XBT closes at 00:00 UTC. If you open and close your position during the same trading day, no Overnight Financing fees are charged at all.
You can find more in detail about fee's and funding here
But how do Prime XBT fees rank compared with other margin trading exchanges?
Exchange Leverage Cryptocurrencies Fees
Prime XBT 100x 7 0.05%
BitMEX 100x 8 -0.025% – 0.075%
Binance 3x 17 0.2%
Kraken 5x 8 0.01 – 0.02%
Gate.io 10x 43 0.075%
Poloniex 5x 16 0.08% – 0.2%
Bitfinex 3.3x 25 0.1% – 0.2%
As you can see, Prime XBT offers by far the lowest trading fees on the market, which makes it an excellent exchange for cryptocurrency or other financial instruments margin trading.
---
PrimeXBT Security
Safety is by far the most critical aspect of any trading platform. Prime XBT has not been hacked yet and is generally considered a secure and trustworthy platform.
Most of the bitcoins stored on the brokers wallet are kept in cold storage – secure storage locked away offline to minimize the chances of unauthorized access. Funds that are needed to cover day-to-day withdrawals are being held in a hot wallet.
The transfers between the hot and the cold wallets are confirmed using multi-signatures, which is considered to be a standard security measure in the industry and helps to alleviate the risks of having a single point of failure
Prime XBT uses the following security measures and tools:
2FA (provided by Google Auth) to ensure account security and prevent any unauthorised access to user's account.
Mandatory Bitcoin address whitelisting feature
Cold storage of digital assets with Multisignature technology
Hardware security modules with rating of FIPS PUB 140-2 Level 3 or higher
Full risk check after every order placement and execution
Encrypted SSL (https) to encrypt and secure our website's traffic.
All passwords are cryptographically hashed (using bcrypt with a cost factor of 12) while all other sensitive data is encrypted.
Cloudflare to mitigate potential distributed denial-of-service ("DDoS") attacks.
Regular tests and check-ups by our technical team.
On-going and IT security assessments are executed to keep up to date with new potential vulnerabilities.
Their hardware is hosted on Amazon Web Services servers, granting it sufficient capacity to run its powerful and efficient trading engine.
Besides, there is an address whitelisting feature, which lets you withdraw funds to pre-approved addresses only. This can help you to prevent transfers to unauthorized wallets, which is handy in case anyone gets unauthorized access to your trading account.
Prime XBT security gets significant props for protecting their user's privacy, too. It does not force you to pass any mandatory KYC (know your customer) checks and doesn't link your data to your name, which is a major win for their customers security by default. You can't become a victim of targeted hacking if no one can identify you.
However, In case someone does manage to get into your account anyway, your funds are also protected by the mandatory Bitcoin address whitelisting feature. It ensures that your bitcoins can be withdrawn only to your pre-approved BTC addresses.
---
Prime XBT Usability and Design
The first thing you'll notice when you register onto the platform is its seamless user experience.
In fact, it takes less than a minute to open an account, and a few more to load it with BTC or stablecoins, and start trading.
Another impressive feature is the design of the trading platform. It is extremely simple to navigate, place orders, watch markets, and trade. However, if it isn't so for you, you can also customize the platform's interface according to your individual needs.
If you're a beginner, it likely won't take long for you to start trading, too – despite all the advanced trading tools and charts, Prime XBT looks exceptionally intuitive and user-friendly.
---
Prime XBT iOS Mobile App
If you are familiar with the PrimeXBT desktop or mobile browser experience, you should feel right at home with the all-new PrimeXBT iOS application. The look and feel of the app matches the trademark PrimeXBT style and feel – and maintains the same client-focused approach.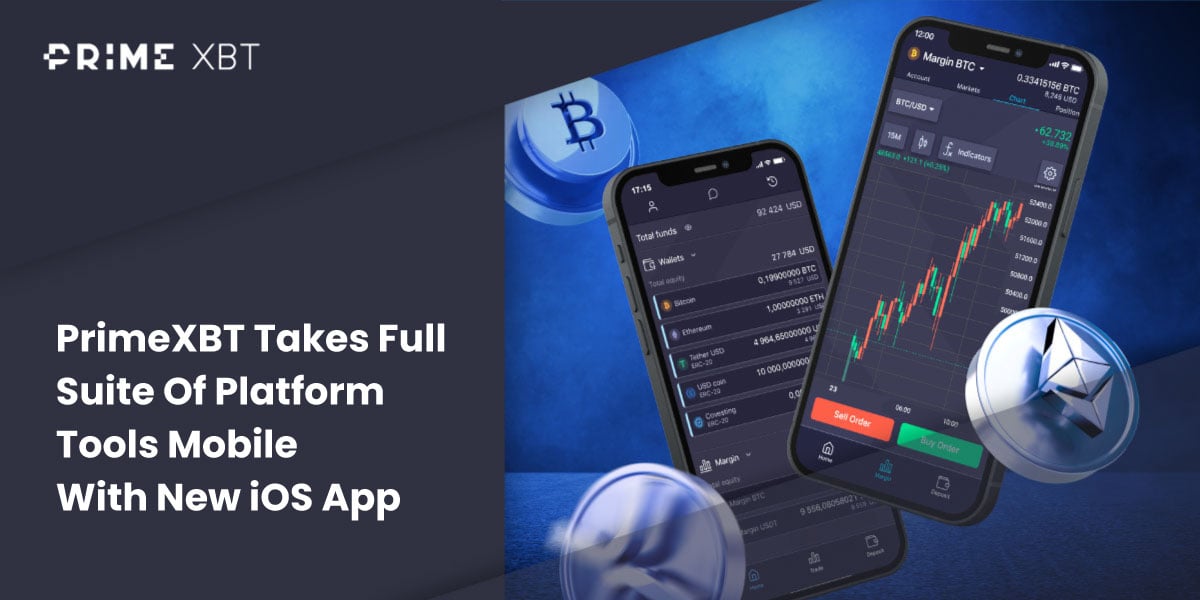 Using the all-new iOS application, users can register for a personal account, pass authorization, make deposits, withdrawals, account transfers, and much more. Users also get complete control over their positions and portfolio, access to price charts, and the Covesting copy trading module.
Users can also expect the same, reliable experience with no system overloads or server downtimes, the tightest spreads, and industry-leading safety and security. The app also acts as a portal to our 24/7 live customer service and dedicated account managers.
BTC, ETH, USDT, and USDC deposits are supported, and users can start trading commodities, crypto, stock indices and more with as little as $5 with no hidden commissions ever – all while on the go.
---
Prime XBT Trading
All trading on Prime XBT comes around longing or shorting the market. Unlike P2P markets, PrimeXBT is a Straight-Through-Processing (STP) platform, meaning that it sends all your orders to liquidity providers rather than matching them against other platform users. Such an operating model ensures that there will always be enough liquidity to execute orders as soon as they are placed.
If you anticipate a market decline, you can buy a short position and profit from it if it does come true. In case you anticipate an increase in price, you can long the market and earn from the appreciation.
The platform allows you to add leverage to your trades, too. Although leverage trading is a very-risky activity, it lets you run a position size by borrowing funds from the platform.
Example: Going Long
Say Ethereum market price is $314.7. You think that the Ethereum price will go up, so you buy 200 of ETH's at $314.7. This is equal to the position value of $62,940.
Because PrimeXBT offers leveraged trading, you don't need to put up the full value of this trade. Instead, you only need to cover the margin, which equals to 1% of a total position size, or $629.40.
If your prediction is correct and ETH price climbs, you may decide to fix a profit. Ethereum price is $354.2 and you close your position.
To calculate your profit, you need to multiply the difference between the closing price and the opening price of your position by its size.
354.2-314.7=39.5, which you multiply by 200 and get a profit of $7,900 because you had a "long" position.
Example: Going Short
The Bitcoin is trading around $7,400. You anticipate the upcoming negative news about cryptocurrency market, which will negatively impact the price of BTC, so you decide to sell ten Bitcoins at $7,400 for a total short position of $74,000 in value.
Bitcoin has a margin requirement of 1% (1:100 leverage) so you need to deposit $74,000×1%=$740 as margin collateral.
The announcement is a disappointing one, and the Bitcoin drops to $7,354. You're ready to secure your profit, so you buy back 10 BTC at $7,354
Because this is a short position, you deduct the closing price ($7,354) from the opening price ($7,400) of your position to calculate profit, before multiplying by its size of 10.
7,400-7,354=46, which you multiply by 10 and get a profit of $460 because you had a "short" position.
Prime XBT lets you place four types of orders
Market (default): an order which is executed immediately at the current offer/buy price.
Limit: an order which lets you place an offer at a wanted price. It will execute when the market price reaches it.
Stop: an order that lets you close position if the market reaches a certain level.
OCO: an order used by experienced traders to combine a stop order with a limit order to mitigate position risks.
---
PrimeXBT Covesting
The Covesting Yield Accounts service connects users to multiple third-party DeFI and CeFI projects, allowing them to generate passive income on their cryptocurrency holdings.
The best part of it — you don't need any technical background or experience in the DeFI space as the platform will do all the hard work for you!
This provides an opportunity for both experienced successful traders and followers to boost each others profit potential. After the platform upgrade, you can now create a strategy or follow traders using USDC, USDT, and other currencies.
Who is Covesting Copy-Trading suited for?
Copy-trading is an excellent opportunity to earn profit for both active traders who wish to manage a Strategy as well as for anybody who wishes to earn a passive profit by following successful Strategies of other traders.
I am an experienced trader, how can I earn using Copy-trading?
As a trader, you can create and manage your Strategy. Others can Follow your Strategy and automatically replicate your trades on the market. You will then receive a percentage of all profits made by your followers, thus maximizing your profit potential.
I do not have the time/ experience/ desire to trade personally. How can I earn with Copy-trading?
Copy-trading is an excellent opportunity to make passive profit for those who are not able to or do not want to trade personally. By following desired Strategies, you automatically replicate their trades on the market, thus following the trading decisions of experienced and successful traders.
Covesting, a fully licensed DLT services provider. Covesting was one of the first to receive a DLT license in Gibraltar, along with Huobi, Etoro, and CEX.
---
PrimeXBT Turbo
Turbo is the latest addition to the PrimeXBT platform. It allows users to bet on the price action of multiple assets within short timeframes. As such, you can earn up to 70% – 90% our your bet by predicting the price change within 30 seconds, 1 minute, or 5 minutes.
If the desired prediction is wrong, the loss equals the pledged amount selected when making your prediction at the start. Every asset on the Turbo module has its own payout ratio and contract durations.
Different assets have different prediction durations, which are:
Crypto: 5 minute, 10 minute, and 15 minute
EUR/USD: a 30 second contract duration is also available
Forex: 1 minute and 5 minute
Besides, Turbo gives you a free 1 Bitcoin demo account, so you can try it out without risking any funds. In case you decide to give it a shot with real money.
---
PrimeXBT Customer support
The broker offers 24/7 support, which we've found very helpful in many ways while they assist the customers anytime. It offers its support through two types of support channels.
Users can email the support team to support@primexbt.com or info@primexbt.com. They can send their queries to the customer support team to receive a reply within a few hours.
PrimeXBT also offers instant web chat, available on the website to get an instant reply through chat assistance. Within a few seconds, the users can get a response to their queries.
In case you have any questions about the Prime XBT platform or trading, you can use its FAQ section to find answers.
---
Deposit and Withdrawal methods
The minimum deposit on the Prime XBT exchange is 0.001 BTC.
The platform accepts BTC deposits and it takes 3 block confirmations which usually takes around 30-40 minutes. Please note that this timeframe can vary during times of blockchain congestion. The withdrawal fee is a flat 0.0005 BTC, regardless of the amount being withdrawn.
Alternative deposits like (SEPA) allow traders to buy BTC using a Credit Card (fiat currencies) and have it transferred to their PrimeXBT wallet. We're looking forward that platform add some online payment processors in the future such as Pay Pay, Simplex or Advanced Cash.
Alternatively to Bitcoin, you can deposit and withdraw:
Ethereum (ETH)
Tether USD (USDT, ERC-20)
USD Coin (USDC, ERC-20)
Covesting (COV) coins.
Concerning withdrawals, there are no limits, but the amount should be higher than the pre-set bitcoin network transaction fee of 0.0005 BTC. ETH withdrawal fee is 0.01 ETH, USDT withdrawal will cost you 20 USDT, USDC withdrawal is 18 USDC, while COV withdrawals incur a 5 COV fee.
Some fees may be charged when using certain payment methods. All pending withdrawals are processed once a day, between 12:00 and 14:00 UTC. A withdrawal requested before 12:00 UTC will be processed on the same day. Any withdrawal requested after 12:00 UTC will be processed on the next day. The withdrawal time can vary depending on the payment provider and method.
---
BETATESPORTS Conclusion on PrimeXBT
Prime XBT is a rising star in the derivatives trading niche. The platform stands out by taking a clear stance against forced anti-privacy regulations, which is a massive plus for privacy enthusiasts.
Prime XBT trading platform is tailored for both experienced users as well as beginners and provides a clutter-free experience despite its many advanced features.
Making use of smart integrations like Covesting is a smart and open approach to enhance the platforms functionality outside of its default domain and makes up a wholesome trading experience.
PRIMEXBT Details
American Samoa
Cuba
Ecuador
Iran
Israel
Japan
Minor Outlying Islands
Russia
Saint Vincent
Samoa
Sudan
Syria
The Grenadines
United States