Pros
Vast selection of altcoins
Appealing and user-friendly app & website
Low withdrawal and trading fees
Exceptional 24/7 customer support
No forced KYC checks
Cons
Slightly higher fees for fiat-crypto trades
May seem a bit complicated for beginner users
---
KuCoin Review
This KuCoin review introduces a well-known name in the crypto industry. It managed to establish itself over the last several years as a prominent one-stop shop for all sorts of crypto operations.
Kucoin offers bank-level security, slick interface, beginner-friendly UX, and a wide range of crypto services: margin and futures trading, a built-in P2P exchange, ability to buy crypto using a credit or debit card, instant-exchange services, ability to earn crypto by lending or staking via its Pool-X, opportunity to participate in fresh initial exchange offerings (IEOs) via KuCoin Spotlight, some of the lowest fees in the market, and much more!
Investors like KuCoin due to its tendency to list small-cap cryptocurrencies with tremendous upside potential, a large selection of coins, lesser-known cryptos, and generous profit-sharing incentives – up to 90% of trading fees go back to the KuCoin community through its KuCoin Shares (KCS) tokens.
KuCoin Key features
KuCoin has grown into a top cryptocurrency exchange that can boast of serving every one out of four crypto holders worldwide. It has developed an impressive suite of crypto services, including the fiat onramp, SEPA deposits, futures and margin trading exchange, passive income services such as staking and lending, peer-to-peer (P2P) marketplace, IEO launchpad for crypto crowdfunding, non-custodial trading, and much more.
Other notable KuCoin features include:
Enjoy Trading 200+ Cryptocurrencies
Buy and sell 200 cryptocurrencies with low fees worldwide. As one of the top cryptocurrency exchanges, KuCoin supports a wide variety of crypto assets. In addition to the bonuses and discounts, it charges a 0.1% fee per trade and even small fees for futures trading.
Purchase Crypto with Fiat Money
Buy crypto with top fiat currencies, including USD, EUR, CNY, GBP, CAD, AUD, and many more. KuCoin lets you buy cryptocurrencies with fiat using its P2P fiat trade, credit or debit card via Simplex, Banxa, or PayMIR, or its Fast Buy service, which facilitates IDR, VND, and CNY purchases of Bitcoin (BTC) or Tether (USDT).
Leverage and Margin Trading
KuCoin Futures and Margin Trading. Long or short your favorite cryptocurrencies with up to 100x leverage!
Lend, Stake and Earn Crypto
Earn cryptocurrency. Check out KuCoin's crypto lending, staking, soft staking, and KuCoin Shares (KCS) bonus on how you can put your cryptocurrencies at work to generate yield.
Non-custodial Trading
Non-custodial trading. In case you are interested in ramping up your crypto security, KuCoin supports an ability for non-custodial trading directly from your private wallet, which is facilitated by Arwen.
Design and Usability
Intuitive and beginner-friendly platform. Excellent design and the robust trading platform make trading easy and enjoyable for everyone.
Safety and Security
Bank-level asset security. KuCoin uses many security measures, including micro-withdrawal wallets, industry-level multilayer encryption, dynamic multifactor authentication, and dedicated internal risk control departments which oversee day-to-day data operations according to strict security standards.
Customer Support
Excellent customer support service that can be contacted 24/7 via its website, email, ticketing system, and other channels.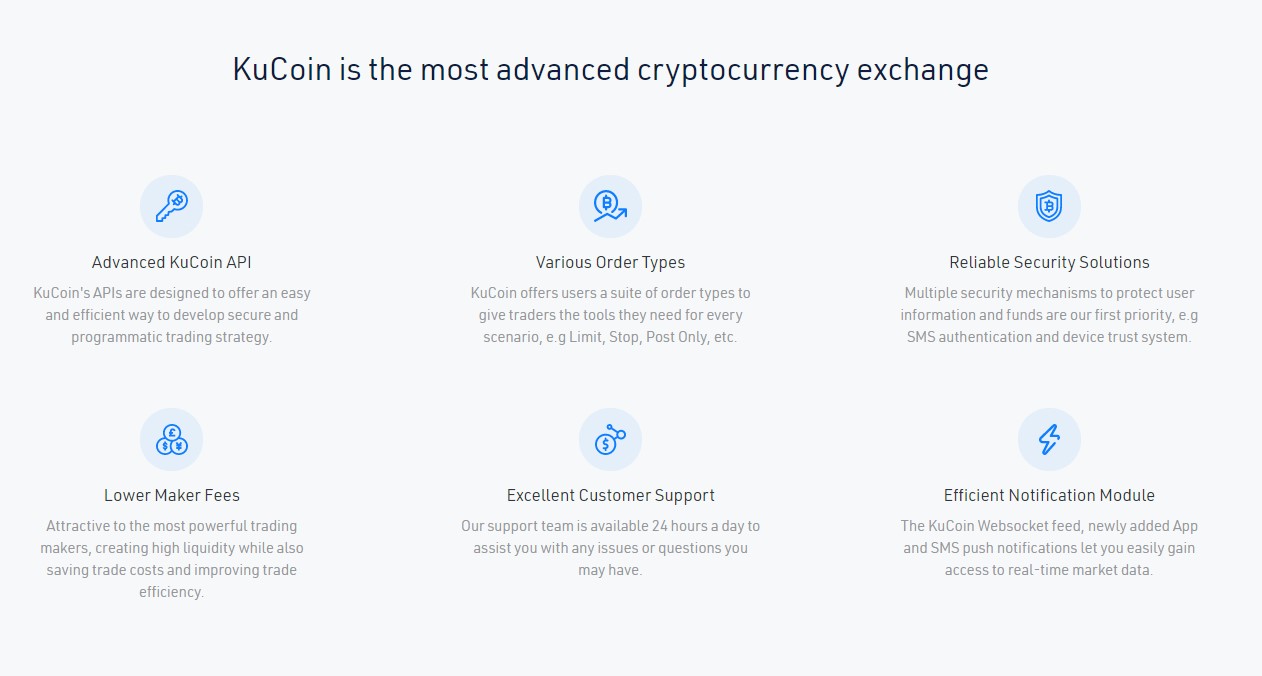 ---
KuCoin History And Background
Although the exchange started operating in mid-2017, its founding team has been experimenting with blockchain technology since 2011. The platforms technical architecture was created in 2013, yet it took years of polishing to make it a seamless experience KuCoin is today.
KuCoin ICO
Funds for KuCoin development were raised via an ICO, which lasted from August 13, 2017, to September 1, 2017. During that time, KuCoin issued its native KuCoin Shares (KCS) tokens, which are used to receive special offers, trading discounts, and a part of exchange profits.
The crowdsale was a success, as KuCoin raised nearly USD 20,000,000 in BTC (at the time) for 100,000,000 KCS.
The ICO price for a single KCS was 0.000055 BTC.
Today, the company's headquarters are in Seychelles. The company is said to employ over 300 employees worldwide.
2019 was a year of significant upgrades for the KuCoin platform. In February, the exchange has upgraded its interface to Platform 2.0, which gave the platform a facelift it uses today. The upgrade also included more features such as advanced order types, new API, and other functions.
KuCoin Futures
In June, KuCoin has also launched KuMEX, which has now been rebranded to KuCoin Futures. Later in the year, the exchange also introduced its margin trading with up to 10x leverage.
Pool-X Liquidity
KuCoin continued to grow its ecosystem in 2020. Amongst more important announcements was the launch of its Pool-X Liquidity Trading Market, as well as a one-stop exchange solution KuCloud.
Instant-Exchange
In February, the exchange also launched its instant exchange service. Besides, KuCoin has substantially increased the number of supported fiat currencies for crypto purchases via its Buy Crypto with a bank card option.
As of today, KuCoin provides services in most countries in the world, including Turkey, India, Japan, Canada, United Kingdom, Singapore, and many others.
Worldwide Usage
The trading website is translated into 17 languages, including English, Russian, South Korean, Dutch, Portuguese, Chinese (simplified and traditional), German, French, Spanish, Vietnamese, Turkish, Italian, Malay, Indonesian, Hindi, and Thai.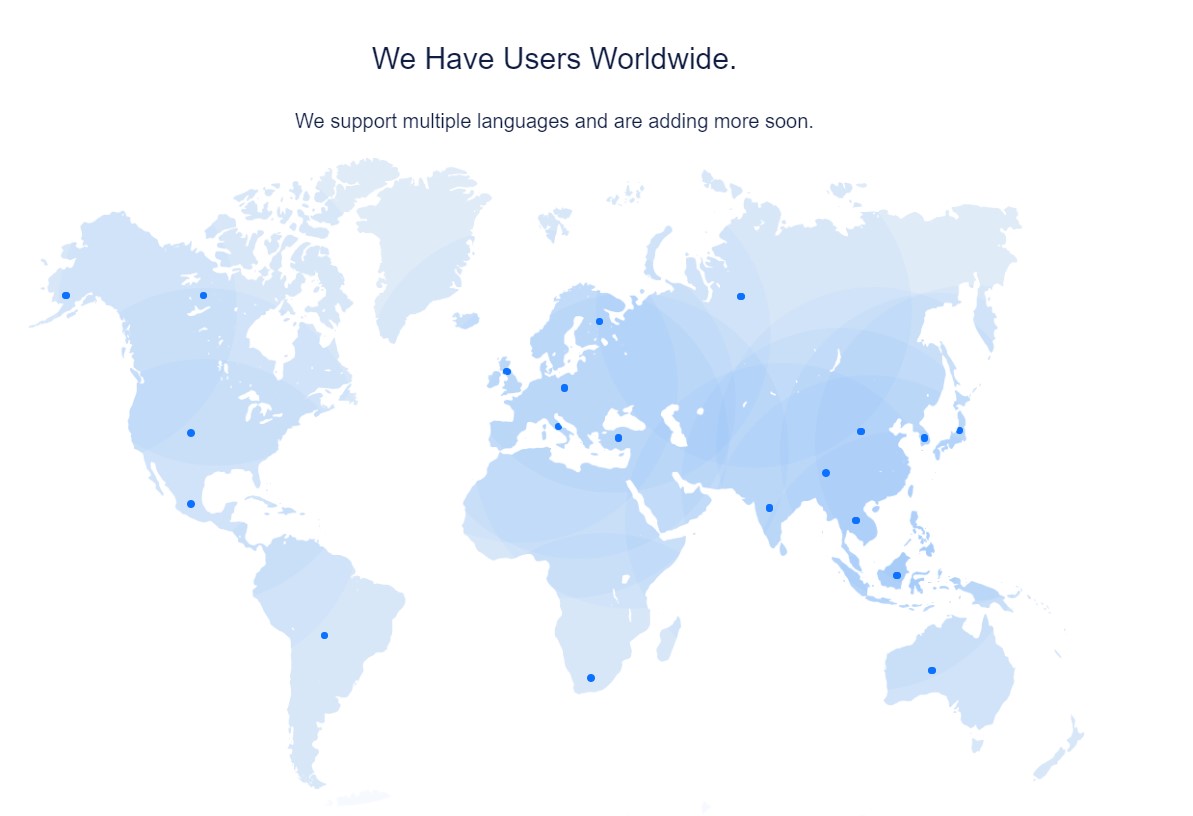 ---
What Are The KuCoin Shares (KCS)?
As mentioned above at the start of our KuCoin review, KuCoin Shares (KCS) were used to fund the creation of the exchange. In total, 200,000,000 KCS were issued and distributed to founders, private investors, and regular investors
Funds issued in the first and second phases are subjects to four (September 2, 2021, for phase one) and two year lock-up periods (September 2, 2019, for phase two).

KCS holders enjoy the following benefits: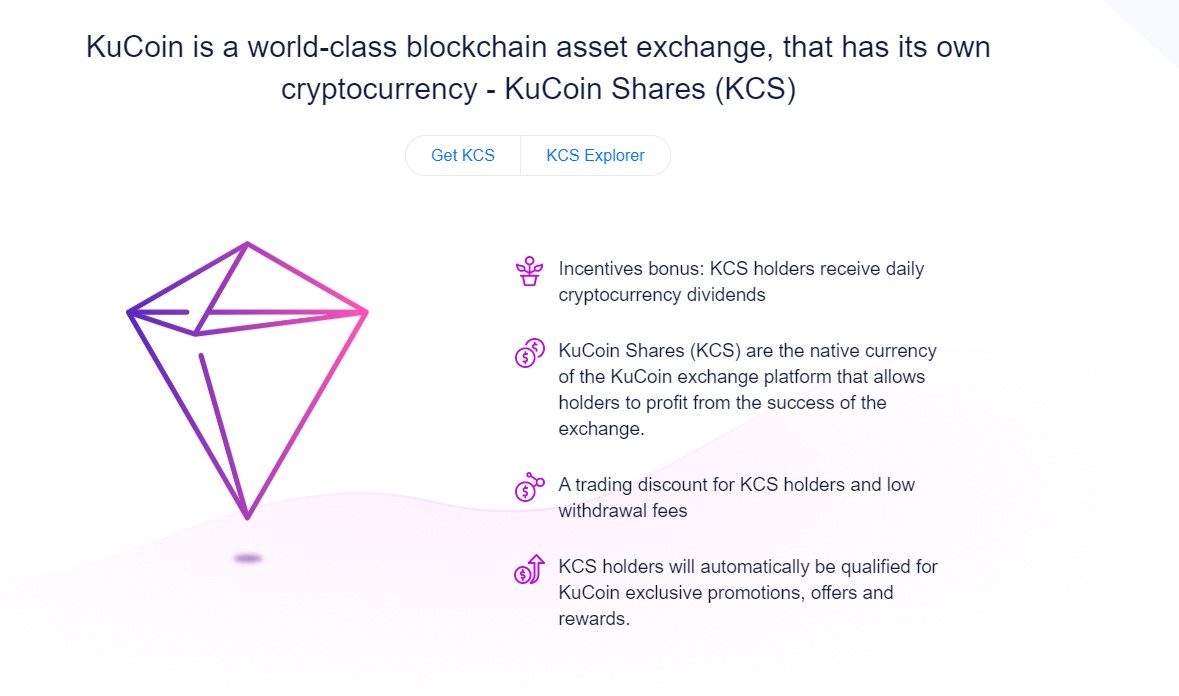 ---
KuCoin Shares
Receive daily cryptocurrency dividends, which account for 50% of the collected trading fees.
Get a trading fee discount (min. 1000 KCS for 1% discount; max 30,000 KCS for 30% discount). The system takes a snapshot of users' KCS holdings daily at 00:00 (UTC +8) to calculate the applicable discount rate.
More trading pairs, including BTC, ETH, LTC, USDT, XRP, NEO, EOS, CS, GO.
Experience exclusive KCS holder perks and offers.
KuCoin users earn part of the daily exchange profits by staking KCS. For instance, if you hold 10,000 KCS, and the exchange collects 20 BTC in trading fees (0.1% of daily trading volume), you would receive 0.001 BTC converted to KCS per day (20 * 50% * (10000/100000000)).

---
20% Referral Bonus
Another way to earn KCS is by referring your friends. You can make up to 20% referral bonus each time your friend completes an order. In total, as much as 90% of KuCoin trading fees get back to the community: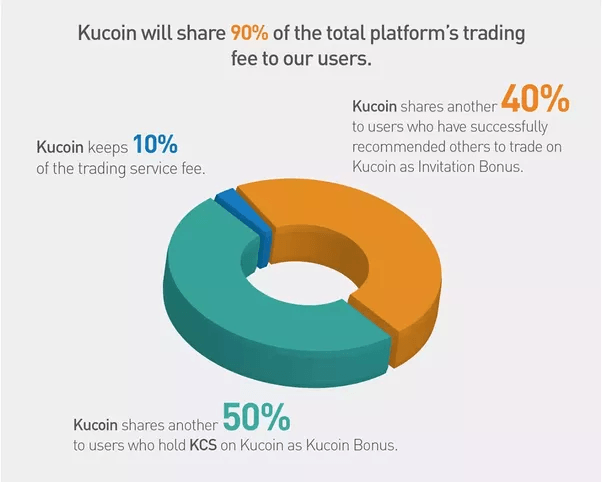 ---
KuCoin Account Verification
On November 1, 2018, KuCoin implemented know your customer (KYC) verification to combat facilitate combat against criminals and money laundering schemes. Nevertheless, account verification at KuCoin is entirely optional, especially if you are a small volume trader. It means that you do not have to verify your identity to trade, however, verified users get benefits such as increased daily withdrawal limits or simplified account recovery in case of a lost password or two-factor authentication device.
At pixel time, KuCoin has three verification levels:
Unverified account. It requires email verification; lets you withdraw up to 2 BTC per 24 hours.
Verified Individual account. Requires you to submit your identity details such as ID or passport, as well as your country of residence, and increases your withdrawal limit to 100 BTC per 24 hours.
Verified institutional account. Increases your withdrawal limit to 500 BTC per 24 hours.

---
KuCoin – Funding Fees
At a time of writing this KuCoin Review, when it comes to futures funding fees, KuCoin Futures has adjustable The USD/USDT lending rate, as they adjust for the relative funding rates and can be either positive or negative. With this adjustment, the lending rate gap between the base currency and quote currency of the perpetual futures funding rate will shift from 0.030% to 0%, which means the funding fee of the perpetual futures of KuCoin will become 0 during normal periods. KuCoin Futures funding occurs every 8 hours at 04:00, 12:00, and 20:00 UTC.
Withdrawal Fees
Last but not least, there are deposit and withdrawal transactions. The deposits are free, while withdrawals incur a small cost, which differs per cryptocurrency. NEO and GAS are free to withdraw from KuCoin.
Coin/WithdrawalFee KuCoin Binance HitBTC
Bitcoin (BTC) 0.0004 BTC 0.0004 BTC 0.0015 BTC
Ethereum (ETH) 0.004 ETH 0.003 ETH 0.0428 ETH
Litecoin (LTC) 0.001 LTC 0.001 LTC 0.053 LTC
Dash (DASH) 0.002 DASH 0.002 DASH 0.00781 DASH
Ripple (XRP) 0.1 XRP 0.25 XRP 6.38 XRP
EOS (EOS) 0.1 EOS 0.1 EOS 0.01 EOS
Tron (TRX) 1 TRX 1 TRX 150.5 TRX
Tether (USDT) (TRC20/EOS) 0.99 USDT Free/- USDT -/- USDT
NEO (NEO) Free Free 1 NEO
In most cases, KuCoin withdrawal fees match up with Binance's, which is known to be the lowest fee exchange. For a complete KuCoin withdrawal fee for each cryptocurrency, visit its fee structure page.
Finally, you might want to buy cryptocurrencies with fiat via KuCoin.
The exchange supports several ways to do so, including direct bank card purchase via Simplex, Banxa, or PayMIR integrations, P2P desk, and fast buy feature.
The fees on those transactions may vary according to the chosen payment method, but should not exceed 5 – 7% on any given day.
For example, Simplex typically charges 3.5% per purchase, while Baxa is said to charge 4 – 6% on top of the total transaction amount.
For P2P marketplace purchases, the fees depend entirely on the chosen payment method and processor rates, so keep in mind when accepting or posting an advertisement.
---
KuCoin Design and Usability
In our KuCoin review, we can see that their design is straightforward to use even for beginners. It has a modern and straightforward layout that extends through all pages and is powered by a powerful API interface. The trading platform uses an advanced core trading engine that can handle millions of transactions per second (TPS).
Besides, you can switch between the old and new exchange interfaces. Both of them are convenient in their own way, so it is up to you to decide whether you prefer the old or new exchange layout.
Spot Trading
The most important feature of any exchange is spot trading. Here, KuCoin allows you to exchange over 600 tokens and cryptocurrencies with reasonably low fees – every trade will cost you 0.1% as a taker or maker.
If you want to make a trade, you need to go to the Markets tab and search for the market you want to trade. Entering the trading window requires you to submit a trading password, which you can set up as an extra security measure. Although it may look complicated at first, the exchange has a clean and straightforward layout.
Though this trading interface may be confusing for newbies, experienced traders should find their way around the exchange rather quickly. On the other hand, new investors may find it somewhat confusing, as the simple trading interface with just a few options to either buy or sell crypto is lacking.
---
KuCoin Futures Trading (KuMEX)
KuCoin launched its Futures (previously known as KuMEX) platform in mid-2019. It allows users to trade Bitcoin (BTC) and Tether (USDT) margined contracts with up to 100x leverage. It means that you can trade up to USD 10,000 worth of contracts with just USD 100 in your account.
There are two versions of KuCoin Futures – one designated for beginners (lite version) and one oriented towards more experienced traders (pro version).
The Lite interface lets you trade USDT-Margined Bitcoin (BTC) and Ethereum (ETH) contracts, as well as BTC-margined BTC futures contracts.
KuCoin Futures calculates the underlying spot price using the weighted price average from other exchanges like Kraken, Coinbase Pro, and Bitstamp.
The Pro interface is more advanced and lets you switch between the following contracts:
USDT-margined: BTC perpetual, ETH perpetual.
BTC-margined: BTC perpetual, BTC Quarterly 0925, and BTC Quarterly 1225
---
KuCoin – Margin Trading with Leverage
Another cool feature that is surely worth mentioning in this KuCoin review is their margin trading, which currently allows you to long or short 36 USDT, BTC, and ETH denominated market pairs with up to 10x leverage. The pairs include top cryptocurrencies like Bitcoin, Ethereum, Litecoin, XRP, EOS, ATOM, Dash, Tron, Tezos, Cardano, and others.
Unlike KuCoin Futures, margin trading occurs directly on the spot exchange, where you can select margin trading markets and place margin trading orders on the exchange.
---
KuCoin – P2P Fiat Trading

KuCoin P2P marketplace is another convenient service provided by KuCoin. Here, you can buy and sell cryptocurrencies like USDT, BTC, ETH, PAX, and CADH directly to and from other merchants.
The P2P marketplace supports various payment methods, including PayPal, Wire transfers, Interact, and other popular payment methods using most popular fiat currencies like USD, CNY, IDR, VND, and CAD.
---
---
KuCoin Review – Instant-exchange
Established in partnership with HFT, KuCoin instant exchange facilitates instant crypto-to-crypto exchanges.
Currently, KuCoin's instant exchange lets you swap Bitcoin (BTC), Bitcoin Cash (BCH), Ethereum (ETH), Litecoin (LTC), and XRP (XRP) for Tether (USDT) and Bitcoin (BTC).
The exchange service looks for the best exchange rates and is currently free of charge.
---
KuCoin Fast-buy Feature
KuCoin Fast Buy feature allows traders to buy and sell BTC, USDT, and other cryptocurrencies using IDR, VND, and CNY fiat currencies. It's great for quick and low fee crypto purchases using payment methods like Simplex, SEPA, bank cards, and other traditional fiat payment methods.
---
KuCoin Review – Earn
KuCoin also offers its users an ability to employ their digital assets in a variety of staking and lending programs. These include:
KuCoin Lend. Earn interest on your digital assets by lending them out for the funding of margin accounts.
The loans last for either 7, 14, or 28 days, and you can earn up to 12% annualized interest rate from your holdings.
At the moment, the lending service accepts USDT, BTC, ETH, EOS, LTC, XRP, ADA, ATOM, TRX, BCH, BSV, ETC, XTZ, DASH, ZEC, and XLM cryptocurrencies.
---
Pool-X. Pool-X is a next-generation proof-of-stake (PoS) mining pool – an exchange designed to deliver liquidity services for staked tokens. It lets you earn high yield for PoS cryptocurrencies like EOS, TOMO, ZIL, ATOM, KCS, XTZ, ZRX, IOST, TRX, and many others. Pool-X is fueled by Proof of Liquidity (POL), a decentralized zero-reservation credit issued on TRON's TRC-20 protocol.
---
KuCoin Review – Spotlight IEO platform
Aside from trading, staking, exchange, and swapping services, KuCoin also has its initial exchange offering (IEO) launchpad, aka KuCoin Spotlight.
Here, you can invest in new hot crypto projects vetted and supported by KuCoin. The launchpad has already funded 7 IEOs, namely, ClearDAO, Gari Network, Coti, Chromia, Cryowar, Victoria VR, Lithium, and Trias
To participate in KuCoin's IEOs, you need to have a verified account. Most of the offerings use KuCoin Shares (KCS) as the main currency of the crowdsale.
---
KuCloud Advanced Technology Solutions
As you may have noticed, in our KuCoin review is an ever-growing crypto ecosystem with an increasing suite of services. Asides from the products mentioned above, KuCoin is also developing the following digital currency products:
KuChain. An upcoming native blockchain developed by the KuCoin community.
KuCloud. An advanced white-label technology solution for anyone interested in launching spot and derivative exchanges with adequate liquidity. It consists of two services – XCoin spot exchange and XMEX derivatives trading platform solution.
Kratos. An official testnet for the upcoming KuChain.
Ecosystem. A growing KuChain infrastructure powered by KCS and various KuCoin partners.
---
KuCoin Review – Security
As of July 2020, there haven't been any reported KuCoin hacking incidents. The exchange brings about a compelling mix of security precautions on both system and operational levels. System-wise, the exchange was constructed according to finance industry standards, which grant it bank-level data encryption and security. On the operational level, the exchange employs specialized risk control departments that enforce strict rules for data usage.
In April 2020, the exchange announced a strategic cooperation with Onchain Custodian, a Singapore-based crypto custody service provider, which is taking care of KuCoin's crypto assets.
On a user side of things, you can maximize your KuCoin account security by setting up:
Two-factor authentication.
Security questions.
Anti-phishing safety phrase.
Login safety phrase.
Trading password.
Phone verification.
Email notifications.
Restrict login IP (recommended when keeping at least 0.1 BTC).

Using these settings, you can be sure that your funds are secure. However, a standard recommendation is that you don't keep all of your funds in the exchange, as they introduce an extra point of failure. Instead, keep only what you can afford to lose on the exchanges.
Overall, most users agree that KuCoin is a safe and reliable platform.
---
KuCoin Customer Support
In our KuCoin review has a helpful around the clock customer support staff that is reachable via the following channels:

Besides, you can reach out to other KuCoin users, as well as join the exchange's community via the following social media channels:
Overall, its customer support is quick to respond and will help you with your queries within a few hours at most.
---
KuCoin Deposits and Withdrawals
KuCoin is an exclusively crypto-to-crypto exchange, which means you could only deposit crypto, but that has changed dramatically in last year. Enabling SEPA deposits together with third-party integrations (like SImplex, Banxa ).
KuCoin does not charge fees for deposits and has a varying fixed fee for withdrawals. Transaction processing times usually depend on the asset's blockchain, but they are executed within one hour, so withdrawals usually reach user wallets in 2-3 hours.
---
BETATESPORTS Conclusion on KuCoin Exchange
While writing this Kucoin review, we can see that a project like Kucoin is an ambitious and innovative player in the crypto space. The exchange has experienced significant growth since its inception in 2017 and is now amongst the top industry players in terms of security, reliability, service quality, and features. As such, the exchange is best suited for both new and experienced traders who want exposure to popular as well as less-known small-cap crypto tokens and assets.
KuCoin Details
China
Cuba
Iran
Iraq
United States