Pros
Rich Sportsbook
Mobile-Friendly
Live Customer Support
Broad Selection of Games
Substantial Sportsbook Offerings
Cons
Lack of iOS app
Not so much sports betting options
---
Cyber.bet Review
In our Cyber.bet review we will try to introduce you to this amazing brand and its services. Apart from esports, you can also bet on football, which is no surprise, considering the fact that this is the most popular sport out there.
---
Cyber.bet Welcome Bonus
As a new customer, you can expect a Cyberbet Welcome Bonus on your first deposit. However, the betting bonus amount seemed to vary in our specific case. During our test, we were offered a 100% premium for the first deposit, paid up to a maximum bonus of €100.
After clicking on it, we were redirected to the offer of a real-time bet. In our test, there were betting markets for soccer, basketball, table tennis, and Counter-Strike. However, some significant esports and traditional sports were missing. Most notably we noticed that League of Legends, volleyball, and snooker were missing, among others. More is possible.
The quality of the graphics and animations was quite good. The possibility of recognizing fluctuating odds directly from a color background also gives Cyberbet a positive point.
---
Cyber.bet – Betting Markets
When it comes to Cyberbet's betting selection, the number of potential markets was quite large. Surprisingly this also applied to sports like MMA, darts, and rugby. What stood out, however, is that the biggest sport at Cyberbet is not soccer, but tennis. With the number of different tournaments and betting options, the tennis offerings are unrivaled.
Unfortunately, the betting markets on bigger sports are significantly lower when compared to similar sites. For example, there are hardly more than 50 betting options for Bundesliga games or other European big leagues. The NBA is somewhat better with up to 80 options to choose from. Furthermore, you can also find a wide selection when it comes to Cyberbet's esports section.
There is a plethora of different games and esports markets to choose from. Apart from the usual pre-match betting, players will find special bets for specific games.
---
Available Esports
Most of the AAA esports titles are accounted for at Cyber.bet. Every gamer and punter will immediately recognize titles such as of CS:GO and Dota 2. While the CS:GO betting and Dota 2 betting markets are quite big, other titles are also However, there are many other games as well.
Cyber.bet Odds Comparison
Since there are not that many esports-focused bookmakers out there, comparing the Cyber.Bet odds was no simple task. Nevertheless, we've done our homework and come to the conclusion that the odds you can get here are outstanding. Of course, it mainly depends on what you're interested in punting on.
As for the format, every single match here has decimal odds, but you can easily change it to US, Hong Kong, Indo, or Malay.
---
Live Betting
Nowadays, live bets or the topic of live betting is a staple in the portfolio of a betting provider. So, it was to be expected that Cyberbet also presents live betting on its sports betting site. On the landing page, there is a separate section for it.
---
Cyberbet App
All Cyberbet offers are presented to you in an optimized view and you can comfortably operate them via touch screen. You can log in with your usual access data. There are also no other special features to note.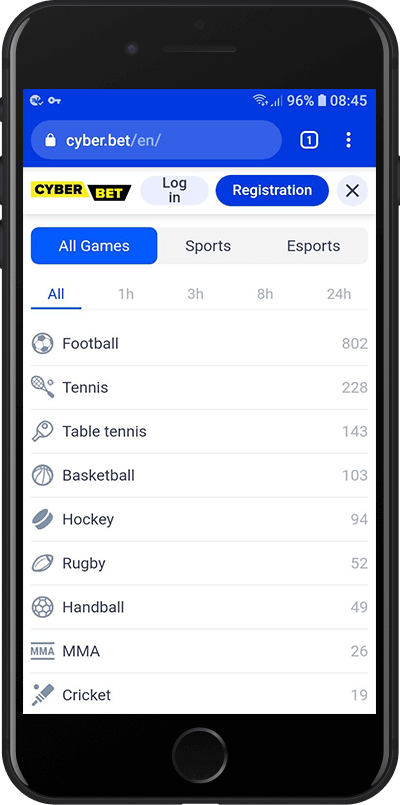 Using an iOS or Android device plays a big role at Cyberbet. At least if you want a standalone Cyberbet app for mobile gaming.
We could only find a download for Android devices. But a search in the Apple Store was unsuccessful.
However, that doesn't mean you can't access Cyberbet on the go with an iPhone or iPad.
You have the option to open the web address in your browser in that case.
---
Cyber.bet Customer Support
Cyberbet support for customers is available by clicking on a contact form. The answers came in English. Thus, you either have to master it or use a good translator. During our research for further contact options, we noticed a phone number.
Surprisingly, you can expect English support on weekdays via a landline number. Often, it is sufficient to first look into the FAQ section of the betting provider.
---
Payment Methods
Cyberbet offers a good selection of payment methods, on the website it says Selection of and of payment methods. In addition to various credit cards and transfer options, there is also the offer to make payments by cryptocurrency, such as bitcoin. This is not the standard among betting providers. Only selected bookmakers offer BitCoin sports betting.
Especially Skrill and Neteller will expect if already no PayPal is available. Depending on the payment method, you can immediately dispose of the deposited amount on the betting account. Withdrawals, on the other hand, can take a few days to process, but that is not unusual for a betting site.
---
Security & Licensing
Whenever it comes to sports betting and gambling in general, the topic of security plays a major role. And it's not just about handling personal data and protected payment transactions.
Responsible gambling is a separate item in the general information section on the website below, with explanations and assistance.
According to our Cyberbet experience, there are no shortcomings in this area. Especially since there are connections to Cyprus, as you can see at the bottom of the website. This means it is about sports betting in Europe after all.

---
BETATESPORTS – Our Verdict on Cyber.bet
Now that we have listed all the important points of our Cyberbet test, we come to a mixed conclusion. The reason for this is that there are some interesting facts about this betting provider. As an example, we could mention the payment option that includes Bitcoin and other cryptocurrencies.
The betting depth also piques interest, as do most of the odds. For this, however, there are no deductions due to the betting tax, as already mentioned.
Live betting has its own section, even if there is no live stream, the graphical representation and color marking of the fluctuating odds is eye-catching. But it's the esports betting that drew most of our interest. Side trips to other gambling offers are also possible.
Mobile gaming is no problem, with an Android device you can even download a standalone app. As far as security is concerned, we can recommend Cyberbet without hesitation.
---
FAQ
Is Cyber.bet legit?
Yes, for sure! The Antillephone C.V, Curacao made sure that Cyberbet has legally betting site and odds.
Cyber.bet mobile app?
Yes, punters can use their mobile browsers to play favorite slots. In addition, Android players can download a stand-alone app.
Can I bet on Football?
Soccer fans can enjoy in wide variety of betting markets with all popular leagues and events!
Cyber.bet odds comparison?
Yes, the betting odds depends on the section that you are using, odds are pretty good when you compare it with other bookmakers.
Learn esports betting with Cyber.bet?
Apart from using Google, you can also check the unique Blog that Cyber.bet has. There, you will see different articles, some of which will introduce you to the basics of a given eSport.
How do I verify my Cyber.bet account?
Similar to other betting websites, you have to submit the needed documentation.
How do I withdraw money from my Cyber.bet account?
First thing first, navigate yourself to the withdraw tab. You'll see plenty of available cashier options.
Cyber.bet Details
Australia
Canada
Cyprus
Estonia
France
French Guiana
French Polynesia
Israel
Italy
Netherlands
Romania
South Korea
Spain
Sudan
Sweden
Switzerland
United Kingdom
United States